Cream Pink Tulips and Purple Iris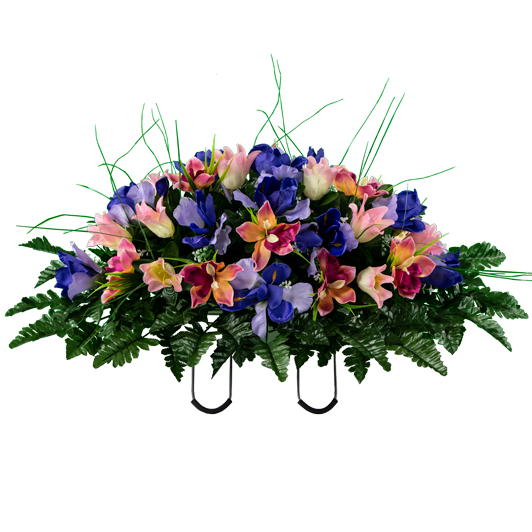 Cream Pink Tulips and Purple Iris
Product is in stock
Item # SD2370
Size:
Monument Saddle

Monument Potted Silk
Color:
Delivery direct to the cemetery
Home Delivery
Only Quality Silk Flowers
Product Description
With an array of pink tulips, purple iris, and two-toned pink orchids, this cheerful artificial cemetery saddle will bring a feeling of happiness and joy to the resting place of your loved one. Greenery is placed throughout the floral arrangement and fern surrounds the bottom of the arrangement. Our headstone saddles measure approximately 30 inches long, 18 inches wide, and 10 inches tall. Cemetery saddles are designed to go on top of a raised headstone. The metal frame attached to the bottom bends down around the stone and is adjustable to fit securely on the top of almost any monument. We take pride in knowing we provide long lasting and durable flowers for cemeteries. Our artificial flowers for cemetery vases are designed using UV resistant materials and non-bleed colors. Our flowers are weather resistant and guaranteed to last longer outdoors in the sun. The colors will not bleed onto the headstone when wet. We recommend changing the flower arrangements every 2 to 3 months to keep your Loved Ones memorial looking exceptional.
Specifications
- Height: 10
- Length: 26
- Width: 18
- UPC: 616320946142